Andrea is 56 years old. She lives with her 13 year old daughter in a one room house in Panchimalco, a small town 30 minutes South of San Salvador. The landscape surrounding the town is incredibly beautiful. Dense lush green vegetation adorns the numerous nearby volcanic slopes. On entering the town we passed by the Devil's Gate, a dip in a rock face high above that is purportedly the entrance to Hades.
Now that we are here, we realize we have flown thousands of miles from our homes in the US, and traveled down narrow dusty bumpy roads, in order to be be able to meet Andrea, or a woman like her. And now finally we get to meet her, a shoeless lady cooking over a wood fire, living in a small house with 15 pigs, in a small village in rural El Salvador.
RESULTS, Microenterprise, and Microcredit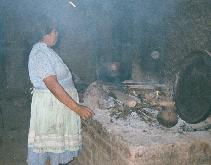 Microcredit involves making very small loans to people to allow them to begin or expand their own extremely small scale businesses, often referred to as microenterprises. Initial loans are usually in the $20 to $200 dollar range. Typical microenterprise businesses involve activities like selling soft drinks by the side of the road, raising crops, or operating a small stall in a market.
The microcredit approach was first tried 20 years ago by the Grameen Bank in Bangladesh, one of the poorest countries in the world. Grameen, through its approach of targeting loans to the poorest of the poor, has grown to the point where now has 2.3m borrowers, disperses $30m in loans each month, has provided loans to construct 500,000 houses, and is now responsible for roughly 1% of the entire GDP of Bangladesh. Microenterprise schemes are now proven as one of the most effective poverty relief tools available. Following on the success of Grameen, there are now a large number of other organizations that are replicating the success of Grameen in other parts of the world.
We were taken to Panchimalco by CAM, Centro de Apoyo a la Microempresa. CAM is an independent non-profit organization originally established by FINCA with funds from USAID 10 years ago. USAID, the U.S. Agency for International Development, is funded under the U.S. Foreign Operations budget to provide humanitarian assistance to people around the world.
Unlike traditional aid, which after it has been provided is gone, microenterprise schemes seeks to provide people the skills, resources, and mostly importantly the capital they need in order to become self sufficient. This goal of self sufficiency applies both to individual borrowers, and to the organizations providing the microcredit. As CAM's borrowers have pulled themselves out of poverty, they have been increasingly able to repay their loans and invest in the organization itself. As a result CAM has been entirely self funded since 1997, has grown to 23,000 borrowers, and provides $2.3m in loans every month.
I have traveled to El Salvador, along with 20 other people from all over the US, to better understand the difference microcredit is making in people's lives. We had each paid our own way to be here, because it is an issue we passionately care about. Back in the US, as members of RESULTS, we speak and work with our congressional representatives to ensure the foreign aid budget targets those programs, like microcredit, that appear to offer the highest paybacks. Back in the San Francisco Bay Area we are very lucky. Representatives Cambell, Eshoo, Lantos, Lee, Lofgren, Pelosi, and Stark are all strong supporters of the sorts of microenterprise programs we are now visiting, as are senators Boxer and Feinstein.
Microenterprise funding is one of the few areas of the foreign affairs budget that enjoys bipartisan support. Conservatives are attracted to the idea giving people the opportunity to pull themselves out of poverty and the creation of thousands of micro-entrepreneurs, while liberals are attracted to the real difference and empowerment microenterprise makes in people's lives.
CAM Visits Panchimalco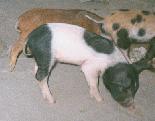 Andrea first heard of CAM when a woman came to the village 8 years ago, when her daughter was 5, and Andrea was 48. The woman was a loan advisor for CAM, and she told all the women in the village "I am here so that no one looks down on you; I am here to make you into a leader". This was something that really resonated with Andrea. For years her brother had always been putting her down, telling her that she was worthless, and that she had never amounted to anything.
At the time she didn't have an existing business, but Andrea had a clear plan of what she wanted to do. She told the loan advisor how she wanted to be able to raise pigs. The problem she faced was pigs were expensive. She initially asked for a loan of 400 Colones (about $US 50). This wasn't going to be enough though to be able to raise pigs. And she remembers being scared when she first took the loan, but decided to go ahead because she was determined to prove to her brother she wasn't a failure.
The Borrowing Circles
CAM organizers borrowers into borrowing circles, groups of approximately 15 women, and it is nearly always women that participate in microcredit. The women share a common responsibility to ensure they each repay their loans. If one of the women defaults, all the remaining women are responsible for repaying her debts. This might sound harsh, but in reality it creates a low cost enforcement mechanism that ensures a low rate of default, and thus makes micro-credit loans a feasible financial proposition. The village women have strong social networks, and none of them want to risk letting the other women down, and so it is only in extraordinary circumstances that default occurs.
Previously the emphasis most microcredit schemes place in targeting their loans towards women was something I had never really understood. After visiting El Salvador the reasons were abundantly clear. All of the schemes we visited had some male borrowers, but the primary focus was on women. There are two good reasons for this. Women typically had stronger social networks, and as a result, as a group, they tend be financially more responsible and less likely to default as borrowers. Second, what I experienced as the absolutely appalling position of women in Salvador society, left women both in a far greater need of the independence and power that microcredit brings, and with far fewer other options for achieving it.
CAM's loans are made on a 4 month cycle, with 3 cycles taking place each year. At the start of each cycle the women receive their loans, which they invest in their micro-enterprises. Each week the women are responsible for repaying a portion of the loan plus accrued interest. Borrowers are also taught about saving and encouraged to save additional money with CAM. The interest rate charged for the loans, 3% per month, might sound high to Western ears, especially since El Salvador presently has an inflation rate slightly below that of the US. Part of the reason for the high interest rate is to cover the administrative costs involved in making such small loans, and secondly reason is to finance the growth of the organization allowing CAM to change the lives of more and more women. Compared to the only other option these women have ever had, the interest rate is actually extremely attractive. Most of the women we spoke with told us the village money changers typically used to charge 20% per month.
Each woman is required to have an existing microbusiness, or a plan for a business in which she will invest the loan. At the end of the cycle, those women with a good repayment record are rewarded and allowed to take out larger loans in the next cycle, while those with a poor record have fewer borrowing opportunities on the next cycle. This produces exactly the same sorting of the good business ideas and implementations from the bad, as occurs in other market based economies. It is testament to these women's business skills and drive that they are able to survive, raise families, start their own micro-enterprises, pull themselves out of poverty, and repay loans at what amounts to a 42% annual interest rate.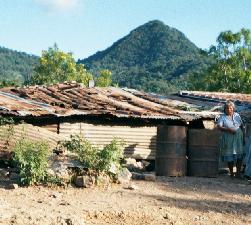 Chickens and Pigs
Andrea used her initial 400 Colon loan to buy 20 chickens, which she raised and sold. This gave her enough confidence that in the next loan cycle she decided to go ahead and buy two piglets. The piglets alone cost her around 200 Colones ($US 25), and this is to say nothing of the cost of the feed she was going to have to buy in order to be able to raise them. She buys corn, seeds, and left over bad milk from the market, and mixes it into a paste called Chalate, which she then feeds to the pigs.
Perhaps astutely, Andrea didn't see the high price of piglets as an impediment to her business, but instead as an opportunity. Rather than raising pigs for sale in the market, she decided she was going to breed pigs, and then sell the piglets in the market to others. It is relatively common in El Salvador for a family to have a single pig which they raise by feeding it their scraps, and then once it is fully grown to sell it. For instance Laura, one of our translators, mentioned how at home her family has a pig that they simply call "pig".
Pigs give birth to litters of between 8-14 piglets roughly every 4 months. A single pig will typically have around 8 litters over its lifetime. Thus in 2 years, provided you can afford the substantial costs of feeding them, a single pair of pigs could conceivably produce 8,000 Colones ($US 1,000) of income.
Pigs and Self Esteem
Andrea remembers that when she took the loan, the loan advisor said "if you don't waste this money then in a year you are going to be a totally different woman". Andrea remembers wanting to be different; not wanting to feel worthless. And it was true, she now explains: "within a year I was a totally different woman!"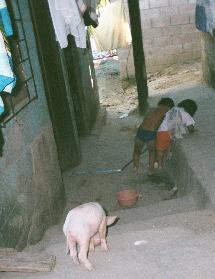 The pigs, and the trust placed in her through additional larger microcredit loans, have given Andrea the confidence and the capital needed to achieve orders of magnitude more over 8 years, than she was able to achieve in the first 48 years of her life:
When we visited her she had 13 pigs: five full grown adult pigs, and 8 piglets. Suzanne and I found the piglets adorably cute, and discussed our options for smuggling one back with us to the US.
On subsequent loan cycles, Andrea took loans that have allowed her to build two small houses on most of her remaining land. She now rents them out to two other families for 450 Colones/month ($US 50/month) each.
Andrea has now also bought a second relatively large plot of land 15 minutes away on which she grows bananas.
She has 9,000 Colones ($US 1,100) in savings with CAM in case of emergencies.
And now most recently, she bought, and is in the final stages of paying off the CAM loan for, the empty plot of land next to her house. This means she now has somewhere to keep the pigs besides having them run around her house.
Andrea and her daughter still live in their original one room house, but it now has a bathroom, electricity, and even an old TV in the kitchen area.
Andrea remains in the microcredit scheme, and as an a AA rated borrower of 8 years, she is now borrowing and repaying loans 10,000 Colones ($US 1,200) every 4 months. This is more money than she could ever have conceivably imagined having when she took her first loan 8 years ago.
Laurie is crying with happiness as she hears Andrea telling her story. Originally as a volunteer, and now as a full time employee of RESULTS, Laurie spends her life tirelessly contributing to RESULTS efforts to advocate improved government funding of high payback initiatives such as microcredit. She does this in the belief that it achieves precisely the results we are now hearing about first hand.
Laurie asks Andrea about her eyesight, and then takes out several different pair of glasses she had bought for $10 each in a drug store in the US. She is having Andrea try them on, to try and find a pair that works. And now it is Andrea that is crying. Crying at being able to see the world more clearly than she probably has for several decades.
The Future
Andrea's daughter is now 13 years old. Andrea now has enough money to be able to send her daughter to school, and feels that whatever her daughter needs in life she will be able to provide for her. Her daughter currently plans to be an engineer, and Andrea is confident she will be able to support her daughter in her endeavors.
Before microcredit, Andrea and her daughter could only afford to eat beans, rice, and eggs. They couldn't afford meat. Now she says can afford for her daughter to eat whatever she likes; chicken, beef, pork, whatever she likes, and that her daughter doesn't even like beans anymore! I am sure her tale of incredulity at her daughter's dietary fickleness and lack of understanding of how fortunate she is, must resonate with Peter who brought his two children along with him from the US on our trip to El Salvador.
One of the biggest differences Andrea says microcredit has made in her life is in her relationship with her brother. She says that for the first time in her life she now gets along with her brother! He no longer humiliates her. Instead he now tells her "I am very proud of you! You are a completely different person! Now I am the one that feels humiliated. Now things are the other way around."
Andrea says she now likes to spend her time introducing other women to the communal bank. She explains "it is your duty to help other people". Her goals in life are now to see the communal bank continue to prosper, and for her daughter to become educated.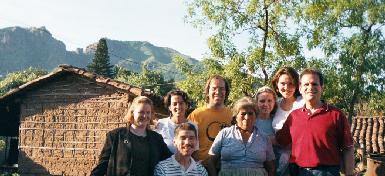 Visiting Andrea has been an emotional experience for us all.
As we leave, we tell Gloria, the CAM bank worker how proud she must be of Andrea. Gloria explains that yes, she is proud of what Andrea has achieved, but that "there a lot of special people here", and Andrea is just one of them. We only wish we had enough time to meet them all.
We will be returning to the US with many stories to tell, and more committed than ever to supporting the widespread deployment of effective microcredit schemes throughout the world.